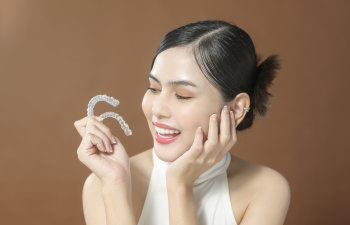 Not willing to wear metal brackets and wires as an adult to straighten your teeth? You are not alone. However, before you just accept your crooked smile, you should know that modern orthodontics offers a preferred alternative to traditional braces. In fact, clear aligner therapies such as SureSmile can be the perfect solution for adults who want to be discreet and comfortable in their orthodontic treatment.
SureSmile is a clear aligner therapy that is proven to correct a number of common orthodontic issues, ranging from overbites, crossbites and under bites to crowded teeth, gapped teeth and more. Most importantly, SureSmile uses clear and removable appliances instead of fixed metal brackets and wires. This breakthrough system allows for several key advantages for adult orthodontic patients, including the following:
Nearly Invisible
You can dismiss those embarrassing thoughts of wearing a mouth full of bulky metal brackets and wires to get straight teeth. With SureSmile technology, patients can retain their confidence in social situations and their workplace by wearing a clear aligner tray that others won't even notice.
Retained Comfort
What adult has time for a sore mouth? Metal braces are undoubtedly effective, but they are often associated with uncomfortable adjustments or sore spots on your gums and cheek from wire and bracket irritation. In contrast, SureSmile is fabricated with thin, smooth plastic and uniquely customized to avoid soft tissue irritation and help you stay comfortable during orthodontic treatment.
Highlighted Convenience
Unlike traditional braces, you can remove your SureSmile trays for eating, brushing and flossing. This means you can still eat the foods you love and keep your teeth and gums clean and healthy during treatment. If you would like to remove your aligners during a work presentation or special date, you are free to do so – your treatment will stay on track as long as you wear your aligners 20-22 hours out of the day.
To learn if you are a candidate for SureSmile at Smilebuilders, Inc., please call our Canton dental team today. We proudly offer modern orthodontic treatment options that adults can feel good about too. Let us tell you more about how SureSmile can give you the straight teeth you've always wanted, without the hassle and discomfort of metal braces.