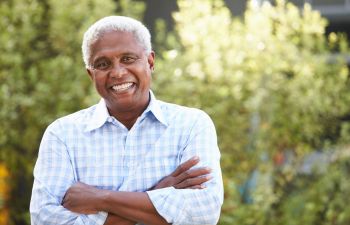 If you've lost a full arch of teeth, dentures are the most popular and effective solution to restore your smile. However, there is more than one way to secure your dentures. While traditional dentures rely on adhesive cream to stay in place, the most preferred method is using dental implants.
Dental implants have revolutionized the way we replace missing teeth and they can anchor your dentures unlike any other denture choice. This remarkable denture solution gives patients a smile replacement that looks, feels and functions most like their natural teeth.
Implant supported dentures first involve the strategic surgical placement of dental implants. The number of implants needed is based on the number of teeth you are replacing, their location in your mouth as well as the type of implant denture you are choosing. Dental implants are titanium posts that are surgically placed into your jawbone. These biocompatible posts fuse to the jawbone over time through a process called osseointegration. Your full or partial denture is then attached to the implants.
Implants offer enough strength and durability to act as your artificial tooth roots, which means unrivaled benefits in terms of how your dentures fit and function as well as your long-term jawbone health and facial appearance. Without a tooth root, the surrounding bone will shrink or atrophy over time due to lack of stimulation. Using dental implants to secure your dentures can help prevent jawbone deterioration and the premature facial aging that often results.
If you are struggling to get a comfortable fit with your existing dentures or you find yourself avoiding certain foods because of your unstable prosthetic teeth, call SmileBuilders Inc. to learn if you qualify for implant supported dentures. In some cases, we can use your current dentures and upgrade them with dental implant attachments. We look forward to giving you a more stable, long-term solution in restorative dentistry.