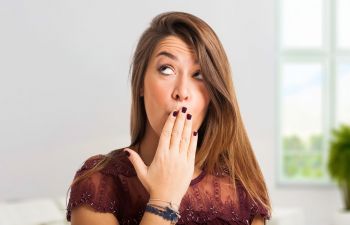 Dry mouth (or xerostomia) and bad breath (or halitosis) are two very common oral health conditions. Not only can these two issues go hand in hand, but they are also likely to get ignored or dismissed as an inconvenience rather than an oral health problem. While bad breath and dry mouth aren't always cause for alarm, they can sometimes be a warning sign of other dangers within your dental health. More importantly, your dry mouth can cause your bad breath and lead to concerns that need to be addressed by your dentist in a timely manner.
The Problem with Dry Mouth
If you've ever suffered from dry mouth, you know how uncomfortable it can be. A temporary dry mouth can occur as a medication side effect or during a stressful situation. Dry mouth that persists on a daily basis, however, is known as xerostomia – and it can pose a major risk to your oral health.
We need adequate saliva production to swallow comfortably as well as help breakdown the food we eat. Saliva also plays a strong role in rinsing away food debris and bacteria from your teeth and gums as well as neutralizing acids. If you lack spit, your dry mouth could be making you more susceptible to bacteria buildup, enamel damage and hardening plaque. Not only does this lead to cavities and gum disease, but your dry mouth could also be the reason for your bad breath!
Is Your Halitosis Caused by Dry Mouth?
Halitosis, otherwise known as "bad breath," can be an embarrassing dental health issue to discuss with your dentist. However, halitosis often develops due to poor oral hygiene or excess bacteria living in the mouth. If you are lazy with your tooth brushing efforts or you have a dry mouth that makes bacteria more likely to thrive, you could be experiencing the ramifications with your foul breath odor.
Halitosis Relief in Canton
Contrary to what you may think, popping peppermints every time you get a stinky whiff of your breath isn't the answer. Halitosis that persists should be addressed by your dentist. At SmileBuilders Inc., we have the knowledge and resources it takes to help you get rid of bad breath for good. For some, this may be as simple as helping you with your dry mouth so that you can achieve a smile that is both healthy and confident!