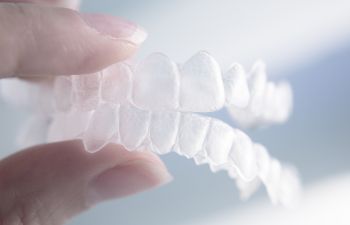 Few of us are lucky enough to have permanent teeth that erupt in a perfectly straight and aligned position. While most people consider crooked teeth as an aesthetic concern, there are also some oral health issues that can result when teeth are misaligned. If you're on the fence about orthodontics as an adult, you'll be happy to know there are some very proven and convenient alternatives to traditional metal braces. At SmileBuilders, Inc, we are proud to offer SureSmile clear aligner therapy as a means to gain a healthier and straighter set of teeth!
Consequences of a Misaligned Smile
If you've been covering your mouth when you laugh or smile due to crooked or widely spaced teeth, you are not alone. Many Americans are embarrassed by crooked teeth. However, did you know that your crowded or crooked teeth may also be posing a risk to your oral health and daily living? Here's what can happen when teeth are not aligned properly in your mouth:
Speech Limitations: we need our teeth to pronounce certain syllables and words. If your tongue and lips can't move correctly due to crowding or misalignment, you may have trouble saying certain sounds.
Eating Challenges: chewing food is the first step in digestion. If you can't chew certain fibrous fruits and vegetables, you can end up with stomach disturbances or you may avoid these nutritious options altogether. Straight teeth can ensure proper chewing and digestion for a healthy body.
Dental Health Issues: decay and gum disease doesn't just automatically develop because teeth aren't straight. However, when you can't clean all surfaces of your teeth the way they deserve, it invites areas a host of dental health issues, ranging from bad breath and decay to infection and periodontal disease.
Jaw Discomfort: your jaw joint (or TMJ) can only work effectively and comfortably when your teeth come together correctly when you bite down. If you have an overbite, cross bite or under bite, it can put strain on the TMJ over time and lead to disruptive symptoms.
Schedule Your Orthodontic Consult Today!
At SmileBuilders Inc., we recognize the valued benefits of straight teeth. We are proud to offer discreet and advanced orthodontic treatment options to help adults gain a healthy mouth and confident smile.