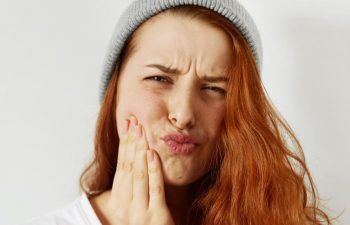 Are you someone who avoids ice cream, coffee or soup due to sensitive teeth? Teeth sensitivity is a common oral health condition with a wide variety of causes. While not all cases of sensitive teeth are cause for alarm, this symptom is a warning sign for several dental health conditions that may need treatment. Dental pain of any kind can be your mouth's way of telling you something is wrong.
The Role of Enamel in Teeth Sensitivity
Your teeth are covered by an outer layer called enamel. The enamel acts as a protective barrier because the inner layer (called dentin) is softer and has tiny tubular pathways that lead to the inside of your tooth where your tooth nerves reside. When the enamel is compromised in any way (thin, weak or chipped), it allows your sensitive tooth nerves to react to outside elements, including hot/cold temperatures, bacteria, sticky/sweet foods, etc.
Why Are Your Teeth Sensitive?
Sensitive teeth can occur when there are issues going on in the inside of the tooth, such as an infection. However, sensitivity also develops when there is damage to your enamel. Therefore, the following circumstances can result in mild to severe sensitivity along one or multiple teeth:
Aging (your enamel can wear thin over time)
Gum recession (enamel is not as thick on the roots of your teeth)
Severe decay
Tooth infection
Enamel erosion (from acidic foods and drinks)
Restoring Comfort to Your Smile
Regardless of what is causing your sensitive teeth, there is almost always a way to fix it. At SmileBuilders, Inc., we are qualified to diagnose your sensitive teeth and recommend a lasting solution so that you can enjoy the foods and drinks you love again without pain. Depending on the reason for your sensitivity, we may recommend cavity repair, dental bonding to restore damaged enamel or a root canal to eliminate an infection. In mild cases of sensitivity, you may benefit from a special toothpaste for sensitive teeth.
Call our Canton office today to learn more about restoring your teeth to their best level of comfort, health and appearance!