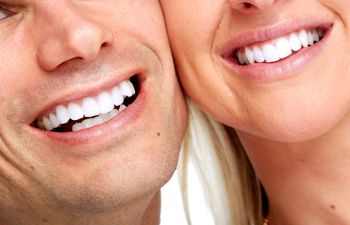 Wish you had that perfect celebrity smile like you see on TV? You'd be surprised at how many Hollywood stars are hiding their real teeth behind porcelain veneers. Porcelain veneers are the go-to choice for patients who want a permanent smile makeover with minimal upfront sacrifice. In fact, this cosmetic dentistry solution is non-invasive and can be performed in as little as 2 to 3 office visits. The best part is that the same porcelain veneers that are available to celebrities are also available to you.
What are Cosmetic Dental Veneers?
Veneers are wafer-thin shells of porcelain that are bonded to the front surface of your teeth. They are intended for cosmetic reasons only, so there is only a need to place veneers on the teeth that show when you smile. In order to ensure the veneer has a strong bond to your underlying tooth, a very small portion of your tooth enamel must be shaved off.
When choosing porcelain veneers, you'll be able to customize your new smile in shape, color and size. The porcelain material gives the translucency of real teeth, yet they won't stain like your natural smile would. Veneers are easy to care for and provide a long-term smile transformation for adults of all ages.
What Can Veneers Do
Cosmetic veneers are highly versatile because they are used for a wide range of imperfections, including the following:
Gapped front teeth
Chipped teeth
Discolored or stained teeth
Teeth that are too small or no proportioned
Slightly crooked teeth
It should be stressed that veneers simply cover up your smile flaws, instead of actually fixing them. Therefore, you'll need to address issues like gum disease, decay or infections before getting veneers. In addition, if your crooked teeth are causing bite misalignment and jaw discomfort, veneers won't solve your concerns.
Learn if Porcelain Veneers are Right for You
What would you change about your smile if you could? It may be easier than you think. The quick and painless process of veneers can transform your teeth into a beautiful, white and balanced smile. Call SmileBuilders, Inc. to learn more.