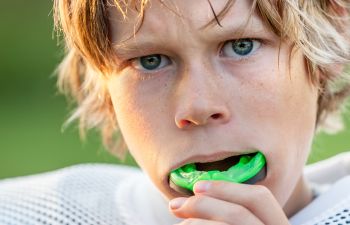 Accidents happen. When you or someone near you experiences an injury to the mouth, there is often a heightened sense of fear and anxiety. While you need to at least have your dentist examine your oral injury, it is important to know when it is an urgent matter and when it can wait. If it all possible, we encourage treatment from an emergency dentist versus a trip to the hospital ER. This ensures you have access to the full realm of care you may need to both eliminate your pain as well as restore your smile.
If you experience the following after trauma to your mouth, it is best to consult your dentist right away for emergency dental care:
Severe Pain: Intense pain either immediately or shortly after a mouth injury needs attention. This may be an indication that a deeper level of damage occurred. Your dentist will need to take an x-ray to determine if there are conditions such as root fractures, abscesses or damage to nearby teeth. Even pain within the lips or gums may require immediate sutures or wound care.
Visible Damage: If your tooth is loose, broken or discolored, your dentist needs to know about it sooner than later. If you can, store any chipped or broken portion of your tooth in milk or water and bring it with you to your emergency dental appointment.
Uncontrolled Bleeding: If you ever have bleeding that cannot be stopped or controlled inside your mouth, you need emergency dental care.
Fever: If you suffered a dental injury and a fever develops soon afterwards, this may indicate an infection. Infections are often accompanied by swelling and pain, and they need urgent attention.
When You Can Wait
While the above-mentioned signs are cause for alarm, there are times when it is okay to "watch and wait" before calling your dentist. If the tooth appears stable and there is no discoloration, pain or swelling after several days, then it is likely not an urgent dental matter, but you may still need to schedule an appointment with your dentist in the near future.
If you are questioning the urgency of your dental injury, please schedule an exam with your dentist to be safe. It's also best to mention a dental accident (either mild or severe) to your dentist at your regular six-month checkup. In some cases, damage to a tooth is not seen for years after an accident. Furthermore, an x-ray needs to be taken to ensure no harm was done beyond what we can see from the outside. Finally, if you regularly engage in activities that leave your mouth vulnerable to trauma, consider a custom mouthguard to protect your smile.