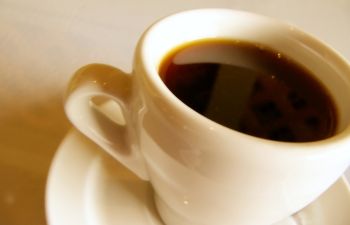 Do you have to start your day with a cup of coffee? You are not alone. Over half of the American population are said to enjoy a cup (or more) of coffee each morning. While you may be well-aware of the energy your coffee gives you, have you ever thought about what this daily beverage is doing to your teeth?
Sipping coffee on a regular basis can impact your mouth in many ways, some are good and some are bad.
#1 Teeth Stains
Hot coffee is typically sipped slowly and not through a straw. Unfortunately, the dark pigments of your favorite brew can penetrate the porous enamel layer of your teeth, which can be hard to remove with simple brushing at home. Professional teeth whitening can help reverse this negative effect on your smile.
#2 Enamel Erosion
Did you know that coffee ranks high in acidity? Acidic liquids that bathe your outer tooth layer (enamel) can cause damage and weakening over time. You may notice sensitivity or more cavities due to your enamel damage. To avoid enamel erosion after your morning coffee, rinse your mouth with water or use a straw instead of sipping. Make sure to wait at least an hour to brush, as this can cause more abrasive damage until the acids on your teeth are neutralized.
#3 Bad Breath
Aside from the potent flavor and smell of coffee, the caffeine in your morning beverage will also dry out your mouth. Both of these contribute to unwanted breath odor after coffee. If you can't brush right away, grab a stick of sugar-free gum to freshen your breath and prevent dry mouth.
#4 Plaque Buster
Coffee isn't all bad news for your smile. There is a positive impact that caffeinated coffee can have on your dental health. Evidence suggests that it can help destroy the bacteria that causes plaque and cavities to form. Now remember, these benefits will be annulled if you pile on the sugar and creamer.
At SmileBuilders Inc., we want you to enjoy your morning coffee and retain a beautiful and healthy smile too! A professional dental cleaning every six months can help. Call our Canton, Lucedale or Byram office today to schedule yours.