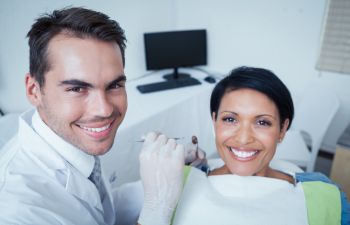 Teeth grinding, also known as bruxism, is a common oral habit. In fact, according to the Academy of General Dentistry, one in three people suffer from bruxism. The bad news is that most patients grind or clench their teeth without even realizing it, such as during nighttime sleep or as a subconscious habit when they are stressed. While bruxism can produce serious consequences to your dental health and daily comfort, it can typically be treated with ease by your dentist.
Here are some FAQs to help you better understand bruxism and its symptoms:
What triggers teeth grinding?
Experts agree that teeth grinding is commonly an emotional response to stress or even anger. It can also become a habit during a certain activity, like running or weight lifting. However, teeth grinding is most often performed during sleep. It has been reported that nighttime bruxism is sometimes linked to depression or the use of alcohol, tobacco or caffeine.
How do I know if I am grinding my teeth?
It is very common for patients to be unaware of their teeth grinding habit, especially when it happens during sleep. However, you'll often notice the following symptoms of bruxism when you're awake: morning headaches, jaw stiffness, TMJ pain, jaw popping and worn down teeth.
Why should I worry about chronic teeth grinding?
Perpetual or chronic teeth grinding involves a remarkable exertion and force on your jaw joint and teeth that they simply were not designed to handle. This is why teeth grinding is the leading cause of TMD (temporomandibular joint disorder). It can also cause irreversible damage to the enamel of your teeth, which leaves you more vulnerable to decay. Finally, severe teeth clenching can cause teeth movement, disrupting your alignment or bite.
How does a dentist treat teeth grinding?
The number one priority when a dentist is treating bruxism is to protect your jaw and teeth. For the majority of patients, teeth grinding can be remedied with a custom nighttime mouthguard. Other patients who are clenching, gritting or grinding their teeth may need to correct a bad bite with orthodontics or find more ways to relieve their daily stress.
Do you have a bed partner that is complaining of your nightly teeth grinding? Does your jaw hurt after you exercise or take a stressful test? Turn to SmileBuilders, Inc. for a comprehensive TMJ exam and teeth grinding treatment.