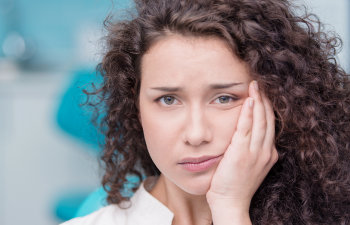 Could an oral health problem be confused with ear issues? Yes, if there is a disorder within your jaw joint (or TMJ), your oral health condition could absolutely mimic the pain of an ear infection. It is not uncommon to see patients go to their ENT convinced that they have an ear infection, only to find out that it is actually the jaw joint that has become irritated and inflamed. In such cases, you'll likely be sent to your dentist for help.
The TMJ (temporomandibular joint) is located on either side of your face and connects the jaw to your skull. The TMJ is opens and closes the mouth. It plays an integral role in your dental function, allowing you to eat, speak and yawn. However, it is also positioned alongside the middle ear and ear canal. In fact, some of the muscles and ligaments that support the jaw joint are intertwined with the nerves of your ear. Therefore, when your jaw joint becomes inflamed, overworked or irritated, it is possible to feel the symptoms within your ear.
What Does TMJ-Related Ear Discomfort Feel Like?
Ear pain caused by TMD can present itself differently for each patient. However, most people experience a sharp pain that comes and goes or a dull ache in the ear. It is not uncommon to feel as if your ears are clogged, especially when you wake up in the morning. Ear symptoms that are not accompanied by drainage or cold symptoms is another telltale sign that it may be coming from your jaw joint.
TMJ disorder (or TMD) causes more than ear pain. This oral health condition can also trigger tension headaches, facial pain, jaw stiffness, jaw clicking and other disruptive symptoms. Since TMJ issues are most frequently caused by nighttime teeth grinding, a custom nightguard may be your final solution to protect your teeth as well as relieve your jaw and ear pain.
TMD Treatment in Canton
At Smilebuilders, Inc., we offer a full menu of services for TMJ symptoms. If your physician has ruled out an ear infection and you are still experiencing ear pain along with jaw popping or jaw stiffness, we can help.