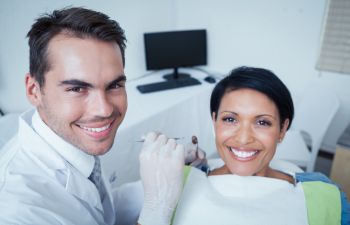 Your dentist will recommend dental cleanings twice per year for optimal oral health. These are professional-level cleanings that utilize special tools and technology to clean your teeth and gums – beyond what you have access to at home. While these routine dental cleanings are non-negotiable for a healthy smile, you may hear your dentist recommend a "deep cleaning."
A Special Cleaning for Your Gums
Deep cleanings, also called scaling and root planing, are the first line of defense against gum disease. In other words, if your dentist wants you to come in for a deep cleaning, there is often signs of gingivitis, such as bleeding, puffy or red gums. It may also be recommended if you have a family history of gum disease.
Don't dismiss the importance of this advanced type of dental cleaning. Restoring health to these soft tissues is a critical step to avoid spreading infection and to prevent serious consequences of advanced gum disease. Your gums are the supporting framework for your smile.
How Gum Disease Develops and Progresses
Just like other infections in the body, gum infections begin with the existence of harmful bacteria. This is typically caused when plaque and tartar are left to accumulate along the gum line. Plaque bacteria will eventually trigger an inflammation within the gums, often noticeable as red or swollen gums. This is a sign of early periodontal disease. While gum disease is easily treated at this stage, not all patients are aware of their condition or seek the proper treatment. Left alone, the gum infection may progress to cause receding gums, deep pockets of gum tissue, bone destruction, tooth loss and more.
Scaling and Root Planing Can Stop Periodontal Disease in its Tracks
The most recommended treatment for gum infection symptoms will likely be a scaling and root planing procedure. During this deep cleaning procedure, one of our dentists will use a combination of ultrasonic and handheld instruments to blast away stubborn plaque and calculus deposits from your tooth roots and remove bacteria from within the deep pockets of gum tissue. Next, we will smooth the surfaces of the tooth roots in order to encourage the gum tissues to reattach. It is not uncommon to perform a deep cleaning on one quadrant of the mouth at a time.
To properly restore gum health, your periodontal therapy may include antibiotics combined with skillful scaling and root planning to effectively remove plaque, calculus and bacterial toxins.
To learn more about a deep cleaning from your dentist, call SmileBuilders, Inc.