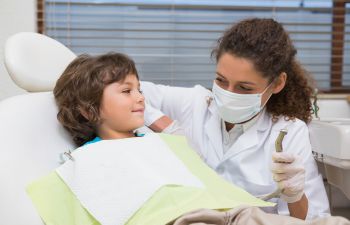 As much as we try to make dental care a comfortable and stress-free experience, there are still many patients who have a real aversion and anxiety about going to the dentist. This can include both adults and kids. In fact, children can may also experience the challenge of sitting still during a lengthy dental procedure. Whether it is anxiety, special needs or a long appointment, sedation dentistry can be a welcome solution.
Types of Sedation Dentistry for Pediatric Patients
Not all sedation dentistry services are the same. There are different levels and types of sedation based on the needs of the child. For kids that need just a little help relaxing in the dental chair, a mild sedation is available called nitrous oxide. Nitrous oxide (also called "laughing gas") is a colorless gas that is breathed in through a small nosepiece. It doesn't put your child to sleep and has no lingering side effects. However, your child will be able to relax and endure their time in the dental chair without stress.
Nitrous oxide sedation is very safe for kids and is used often during dental filling appointments. If necessary, you can request nitrous oxide during your child's dental cleaning. Creating a positive experience at the dentist is very important to us at SmileBuilders, Inc.
There are also situations that demand a higher level of sedation. If your child has special needs or requires a lengthy or invasive dental procedure, we may recommend sedation dentistry at a local hospital. This allows them to sleep during their dental treatments in a safe and sterile environment while we go to work on their smile. Not all dentists offer this level of sedation, so please don't hesitate to ask more about IV sedation dentistry.
Creating a Comfortable Dental Visit
At SmileBuilders Inc., we are keenly aware of the reasons why kids are anxious or fearful of the dentist. We do our best to create a fun environment that includes a caring staff, soothing amenities and much more. However, we are also prepared to offer sedation dentistry when needed. Don't let dental visits be a battle in your household. Let us help!  Call our Canton office today to book your child's dental appointment and discuss our pediatric sedation dentistry services.