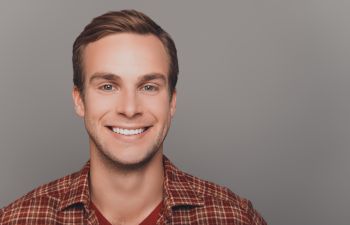 The smallest imperfections within your front teeth can often be the largest obstacles to a confident smile. Do you hide your smile due to minor chips, gaps or discoloration? You may not have to endure an expensive or lengthy cosmetic dentistry procedure to fix it. In fact, dental bonding with composite resin can be an excellent solution for your smile transformation – and one that is quick, painless and affordable!
What is Composite Resin?
Composite resin is a white dental material this is primarily used as a preferred choice over metal fillings to repair a cavity. However, composite resin also makes a great solution for cosmetic dental corrections too. It is a tooth-colored plastic and glass mixture that can effectively change the color of your teeth or reshape teeth that are disfigured. Composite resin is known for its natural aesthetics, durability and long-term safety.

During a dental bonding procedure, the composite in applied in layers. A specialized light is used to harden each layer. The composite is then custom-shaped to fit the tooth and then polished to prevent staining and early wear. The entire procedure can typically be performed in under 30 minutes without the need for dental anesthesia or downtime.
How Can Composite Resin Be Used Cosmetically?
Composite resin is a modern dental material that can address a wide variety of aesthetic flaws within the visible portion of your smile. Bonding can effectively address teeth that are chipped, cracked, broken, stained or have gaps between them. While bonding is highly durable, if your dental imperfection is too large or severe, another treatment may be suggested to effectively enhance your smile (such as porcelain veneers).
The Benefits of Dental Bonding
It is not hard to find the benefits of using dental bonding as your smile enhancement service.
Cosmetic dental bonding offers the following perks:
Highly affordable
Completed in a single visit
Non-invasive
At SmileBuilders Inc., we care about the appearance of your smile. We proudly offer dental bonding as an easy and effective solution for minor dental imperfections that may be holding you back from a confident smile. Dental bonding is perfect for the anxious patient or those who are on a tight budget. Contact us  today to learn more about composite resin in cosmetic dentistry!