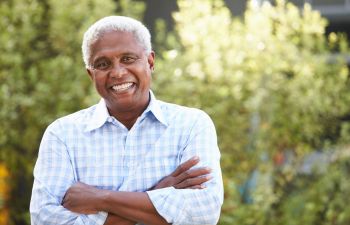 If you've recently received dental implants, congratulations on choosing the gold standard solution for tooth replacement. You can now enjoy a confident smile and one that functions, looks and feels like your natural teeth. Dental implants carry a superior success rate, and they are designed to be a long-term solution.
While your dental implants do not require the extra maintenance and hassle of traditional dentures, they still need to be properly cared for. In general, dental implants demand daily care that is similar to your natural teeth, which includes the following:
Brushing: A small, soft manual toothbrush or an electric brush can effectively clean the sides of your implant and the area around your implant. You should brush two minute per day, twice a day regardless of whether or not you have a single dental implant or a full mouth restoration. A low-abrasive, tartar-control toothpaste and antibacterial mouth rinse may also be recommended.
Flossing: Your dental implants absolutely need to be flossed. This ensures that plaque and bacteria don't get stuck beneath the gum line, which could compromise the health of your implant or abutment. Inter-dental brushes or other flossing aids can be used.
Seeing Your Dentist: Once you've received your dental implants, you don't get a rain check on attending your routine cleanings. In fact, your dentist may want to see you every 3 months instead of 6 months to ensure your dental implants are healthy and secure. Dental x-rays are an important part of your routine checkup, as this allows us to make sure all of the components are still attached to your implant and that you are not losing any surrounding bone structure. Your exam will also include careful evaluation of your gums surrounding the implant. Any receding gums or irritated gums need prompt attention.
What To Watch Out For?
While your dental implants are stain-resistant and decay resistant, you can still get plaque and bacteria accumulation underneath the implant and around the gum line which can compromise the health of your entire implant. Signs of bleeding can be an indication of mucositis. If not treated, this condition can progress to peri-implantitis, which could mean an irreversible loss of bone and necessary removal of the implant.
Other symptoms of dental implant trouble are looseness, swelling or discomfort around your implant restoration. Remember that catching problems early can greatly increase your chances for dental implant repair and/or reversing the problem completely.
At SmileBuilders, Inc., we do everything we can to help you preserve your dental implant investment. Your new smile is worth the daily care and regular visits to your dentist to ensure your implants are healthy and functioning properly.