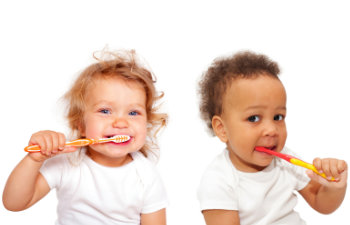 As parents, we've got a lot of information to pass down and teach our children as they grow into adulthood. When it comes to their dental care, however, there are some specific things you need to share with them, starting at an early age. As your family dentist, Dr. Preston Cobbins of SmileBuilders, Inc. works hard to make pediatric dental care as positive and seamless as possible. We realize the value of a healthy smile through all stages of childhood. To this end, our team welcomes the opportunity to partner with parents when it comes to educating kids about dental care.
Children should know that dental care is essential to maintain healthy teeth and gums. Regular dental check-ups can help prevent dental problems such as cavities, gum disease, and bad breath.
Here are some specific things kids should know about dental care:
#1 Brushing and Flossing
Children should brush their teeth at least twice a day and floss once a day. They should use fluoride toothpaste and make sure to clean all surfaces of their teeth, including the fronts, backs, and chewing surfaces. Flossing helps remove plaque and food particles from between teeth and below the gum line.
#2 Healthy Eating
Eating a balanced diet with plenty of fruits, vegetables, and whole grains can help promote good oral health. Sugary and acidic foods and drinks should be consumed in moderation to avoid tooth decay.
#3 Mouthguards
If your children play sports, they should wear a mouthguard to protect their teeth and gums from injury.
#4 Regular Check-ups
Children should visit SmileBuilders Inc. for regular check-ups and cleanings at least twice a year, or more often if recommended by Dr. Cobbins.
#5 Importance of Baby Teeth
Baby teeth play an important role in maintaining space for permanent teeth and helping children chew and speak properly. Children should take care of their baby teeth just as they do their permanent teeth.
#6 Cavity Prevention
To prevent cavities, children should avoid snacking on sugary foods and drinks between meals and drink plenty of water throughout the day.
#7 Dental Emergencies
Children should know what to do in case of a dental emergency, such as a knocked-out tooth or a toothache, and should seek immediate dental care.
Is your child maintaining a healthy and confident smile? Whether you have a toddler or a teenager, we'd love to care for your child's smile at SmileBuilders Inc. Call our Canton, MS office today to learn more about our pediatric dental care services near you.